IP issues and limited player traffic for online gaming
Delaware officially became the second state to launch real money online gaming on November 7, after a soft launch on Halloween. Three operators launched their sites, which use 888 poker software as things are overseen by the Delaware Lottery. After the first few days passed, certain issues regarding players' IPs and the limited player pool for online poker have already reached the surface.
Harrington Raceway, Delaware Park and Dover Downs are the three companies behind the sites and all of them offer a variety of casino games and poker on the internet to residents which are physically located within Delaware borders. They also offer welcome bonuses of 100% on the first deposit, of up to $100 or $200, and 50 free casino spins. These promotions are standard in the online gambling industry and should give them a chance against the off-shore gaming sites.
Lack of online poker traffic
PokerScout has been tracking the traffic of all the three new sites in Delaware since their launch on November 7. When they first went live, they attracted 15 players combined, followed by a peak of 24 on Friday and 23 ring game players on Saturday. These numbers are very small for an online poker room where more players determine the level of play and the variety available.
Since Delaware offers full internet gambling, similar to New Jersey and unlike Nevada's poker-only online industry, the traffic issues may be limited to just poker until the action gets going and more players join in.
[geocode id=1]
IP issues with Verizon
Poker players also reported having issues with Verizon and their ISP. Some reports on the Two Plus Two forums stated that Verizon players appeared to be located in other states despite the fact they were trying to access the sites within Delaware. Given the popularity of Verizon, the problem quickly became a big concern for the operators.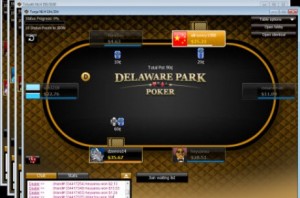 Having "remote programs" running, while trying to gain access to the gambling sites, can also be a problem according to player reports. The recommendation was to close the programs one by one in order to see which ones were not allowed under the Terms of Service.
Not a lot of people realistically expected things to go without any problems and something similar to this happed in Nevada when the poker sites went live. While these issues can be fixed, the one problem that will remain is the small population of Delaware – the sixth smallest in the country at 917,000. Rumors of intrastate compacts with Nevada and even New Jersey are plenty but for now, the sites will continue to struggle.
Some have even said that Delaware is still in "soft launch" until the Lottery and the operators will begin their marketing push to get more players interested.