Is mobile poker growing as fast as mobile gambling?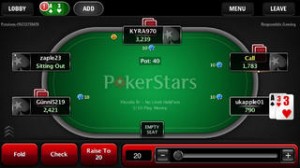 There are many operators which believe that the future of the online gambling industry can be found in your pockets, more precisely on your smartphone. Mobile gambling gives players the chance to enjoy various games wherever they are as long as they are connected to the internet. Something which certainly appears to be incredible and very appealing to a large number of players.
Mobile gambling on the rise
The numbers reflect the growth of gambling on mobile devices, no doubt about that, and it is not just the increase in players but also the revenue for operators. PaddyPower declared that 32% of its revenue came from mobile devices, while Betfair had 50% of the 2012 registrations come from smartphones and tables. William Hill also took advantage of the mobile gaming growth and declared that 35% of its revenue was from punters using a mobile device to place a bet. This is just the tip of the iceberg and the list can continue on for quite a while. Headlines with players winning millions of dollars while playing progressive slots on their smartphones didn't take long to appear.
However, the topic of discussion here is mobile poker and not mobile casinos or mobile sportsbooks. With the argument of poker being a game of skill and not a gambling game being used by players around the world, mobile gambling should not reflect mobile poker and in many ways, it doesn't.
Pro players on mobile poker
One of the great things about poker is that players can make a profession out of it and play a real money card game for years and years. This means that they offer a unique insight into the game of poker that many casual players might overlook. Major online tournaments, such as the recent WCOOP on PokerStars, can be played from mobile devices but many tournament pros don't see mobile poker as a standalone product. Instead, it is a very helpful addition to the online experience that can be helpful in case of emergency.
World Series of Poker bracelet winner Craig McCorkell nicely presents the concept of mobile poker by stating that he only uses the PokerStars app when he has to leave the house and is still involved in a tournament. Apart from that, playing an online tournament on a mobile device while the much bigger screen of the laptop or desktop computer is just a few feet away doesn't seem to be a very good idea.
[geocode id=1]
Mobile poker players mostly access the tables while waiting for something else; be it the bus, their turn in a line or simply have a while to spare. The fact that poker requires a lot of concentration makes it difficult to play your best on a mobile device and here is where the differences between mobile gambling and mobile poker really become clear. While it is easy to spin the symbols on a progressive slot, every decision in poker has to be carefully thought trough.
Many pro players have said that although they have downloaded a mobile poker app on their smartphones, they rarely use it. On the other hand, the casual players are not as focused on winning those big pots and the lower limit users might not need to have the same level of concentration to have fun and also win some money.
Mobile poker apps are very good for making the time go by faster as long as you have a stable internet connection. Fast-fold variations of the game, such as PokerStars' ZOOM, can make those few minutes count a lot more since you can play more hands; but at the end of the day, it is very likely that you will get home and play on your computer or laptop.
The thing that makes online casinos similar to online poker is that it is easier to access them on a big screen, with a mouse and a keyboard. As you can Try Miami Club Casino here with very little effort, you can also access an online poker site. While mobile gaming has improved significantly over the past few years and continues to get even better, poker is not the best game to play from a mobile device compared to its much bigger cousins. The popularity of mobile poker and how it is used also reflect this and the apps remain just a good part of the whole package and not a standalone product.