Lindsey Lohan was late to Halloween party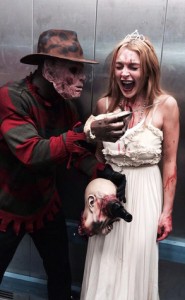 Halloween saw a lot of celebrities make the news with their costumes and one of the names to make headlines was Lindsey Lohan; not because of her choice of costume but because of the services she provided for a casino on the night of October 31.
Lindsey Lohan is a known American actress, partly for her work on screen and partly for the problems in her personal life. The pop culture star was asked by the MGM Grand at Foxwoods Resort and Casino in Connecticut to come to the Halloween party and judge the best costume in the contest, along with boxing superstar Floyd Mayweather.
The deal was that Lindsey Lohan would get to the casino at around 10 pm and take part in the red carpet festivities, where she was excepted to pose for pictures and talk a bit with the fans. However, her fans were disappointed when she didn't show up and came to the party just before midnight, after only spending a few seconds on the red carpet.
[geocode id=1]
Once she got there, reports say that the 27-year-old actress did her job very well and not just played her role as a judge for the costume contest but also interacted with the guests and was a great host. The gig seemed to have been a success and she certainly dressed for the occasion, wearing a great Carrie costume while Mayweather came as Freddy Krueger.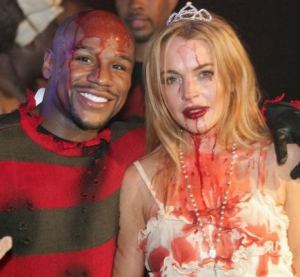 However, the Foxwoods Casino officials believe that they should get back a part of the $50,000 they paid her because she was late and chose to skip the red carpet.
It remains to be seen how both parties will choose to continue this crazy story and whether or not we will see more of Lindsey Lohan in casinos. The actress completed a rehab stay ordered by the court in August and didn't have any alcohol at the Halloween party, according to casino employees.
For more Halloween costumes, check out this SourceFed video: