The Great Dane has the biggest losses ever recorded
In something which poker enthusiasts may consider as a much better plot than the one used for the Runner Runner poker movie, the players known to frequent the very high stakes tables on Full Tilt Poker are always subjective to swings worth millions of dollars. Losing is just as big a part of the game as winning when it comes to poker and every experienced player knows that bad runs can be quite devastating.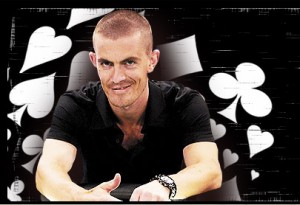 Full Tilt's Gus Hansen knows very well how big the swings can be at the poker table. The Great Dane is one of the most famous players in the industry and described himself as a "professional gambler". Being the first to represent Full Tilt Poker after it was re-launched last year, Hansen has been a regular at the high stakes levels of the popular poker room. However, while another member of The Professionals team – Viktor Blom – has been making headlines for winning the most money throughout the year, Hansen has been spending his time on the other side of the list.
Things keep getting worse for the Great Dane
According to online poker tracking site HighstakesDB, Gus Hansen is down $12.7 million since May 2007. This is by far the lowest mark in his career and also the worst ever recorded for a single account, by far. If we consider the fact that the best way for the Dane to come back from this deep hole is to keep playing, it will be very interesting to see how the graph will go by the end of the year.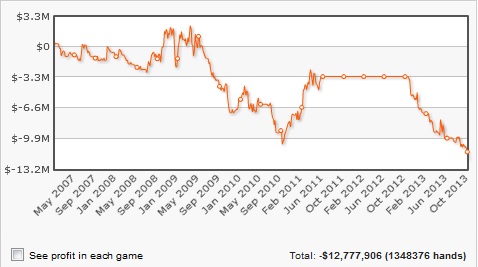 So far this year, he has played 1,413 sessions for a total of 148,408 hands and lost $6,366,633. In comparison, Viktor "Isildur1" Blom played 4,232 sessions and clocked it a total of 388,009 hands on his way to winning $3,551,243.
Before Full Tilt Poker went down, Hansen was on a great upswing of up to $6 million but after the site came back online and he regained access to his funds, it was all downhill for the 39-year-old. One can assume that the Hansen bankroll is more than enough to cover the losses on Full Tilt Poker and then some. He has around $10 million in live tournament winnings throughout his career, without including the money spent on buy-ins.
Given the very big stakes and the action taking place around the clock, it can only take 24 hours to win over $1 million, as demonstrated by Isildur1 last week.
Other big losers this year include Phil Ivey on his "Polarizing" account on Full Tilt Poker. The famous player is down $2,433,773, enough to earn the fourth spot on the list, but still far behind Hansen.
Watch Gus Hansen play Squash