"Play, or be played" with Ben Affleck and Justin Timberlake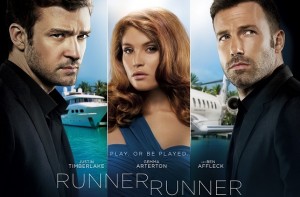 Movies about poker have generally failed to connect on the board regardless of the amount of money put in pre-flop. While there are some films which nicely present the game and have lovable characters which the audience can connect with and support, the highly-anticipated poker film Runner Runner is sadly not one of them.
The increase in online poker sites traffic from the last successful poker film (Rounders in 1998) made it a good time for an exciting movie about online poker as long as the action was actually about the game and not just a small idea for another action movie. Not one single poker hand was shown in the entire 91-minute film.
First weekend ratings
Runner Runner was launched on October 4 in theaters across the US and has cashed in $7.6 million in the country and a total of $31.1 million from worldwide box office in its opening weekend. It is a respectable amount which puts it in third place for US Box Office but most of it is due to its incredible cast. With stars like Ben Affleck, Justin Timberlake and Gemma Arterton playing the main roles and with a significant budget to make the story come to life, fans couldn't wait to get to their seats. However, once the movie was over, the general opinion was that the movie is not as good as many expected it to be; scoring a 5.4/10 rating on imdb and getting an 8% on Rotten Tomatoes from critics while only 28% of the audience liked it.
With the advertisements running during the World Series of Poker Main Event in Las Vegas and with many poker fans seeing them in the now running ESPN coverage, the movie not only attracted Timberlake fans but quite a few poker players as well, making headlines on major poker sites. As soon as the movie starts, the story takes an abrupt left turn and seems to forget about the game altogether and instead focuses more on flashy explosions and killing sprees.
[geocode id=1]
The storyline is incredibly predictable, which would explain the overall disappointment felt in the cinema once the obvious ending finally came and the lights were turned on. A very short poker session played by Richie Furst (Timberlake) at the start of the movie and a few bad poker terms sprinkled around the script does not a good poker film make.
No more unregulated poker or just no more bad poker movies?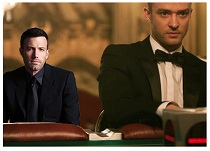 A spokesperson from the Poker Players Alliance stated that Runner Runner shows exactly why they do not want unregulated online poker in the United States. The reason being that the online poker room owned by Ivan Block (Ben Affleck) was not regulated and used the money for various criminal activities while also cheating its customers. Moving past the huge exaggeration with the number of players, it is very hard to argue that the poker site was able to survive more than one week if its users were being cheated out of their funds. With the internet allowing for bad reviews and experiences to spread like wildfire, the most important element a company has is its image; especially if we are talking about real money online gaming operators.
Online poker is not available in the US except in three states and these require special licenses granted by the local commissions. However, offshore online poker rooms have been accepting American players for years, guaranteeing a safe and secure environment in which customers can enjoy the game. Not only that, but there are also great promotions to be claimed, like the Carbon Poker bonus which is worth 200% on the first deposit, up to $5,000.
With all of that being said, Runner Runner is a pretty decent movie as long as you let go of your expectations and just go and see it. It will probably not win any major awards but the action and overall fast pace of the film will keep you entertained long enough to maybe overlook the exaggerated poker metaphors. If you are going to the movies and all the good seats are taken on the other major titles released last weekend, Runner Runner is not as bad a choice as many would want you to believe.
Poker fans just need to wait a bit more since Rounders 2 is currently in the works and just enjoy watching Affleck and Timberlake in an entertaining movie for now. Until next time, be sure to Try Carbon Poker for Free and get the best online poker experience in the US.