Archie Karas arrested for cheating at blackjack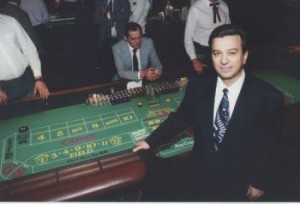 When it comes to great gambling stories, there aren't many that come close to that of Archie "The Greek" Karas. The name became famous throughout the gambling industry after he managed to turn $50 into $40 million across a two-year hot streak by frequenting the many casinos in Las Vegas. This happened in the early 1990s and Karas has remained a true gambler over the years but like it always happens, his luck eventually ran out.
The legendary gambler recently made headlines for being arrested at his home in Las Vegas, Nevada, for allegedly cheating at the blackjack tables in an Indian casino in California. According to the video cameras in the casino, Karas made subtle marks on the back of the cards so that he could know their value when they came up in the deck. While the dealer didn't catch on to this scheme and the gambler walked away with $8,000 more money in his pockets, a closer look at the surveillance made the casino take legal action.
The charges facing the 62-year-old are burglary and winning by way of fraud and he can get three years in prison if convicted. Despite the not-so-happy ending, the legend of Karas will inspire gamblers from around the world for decades to come.
He came in the United States has a penniless teenager and went on to have the biggest lucky streak in gambling history, known as "the run". There have been reports of him winning as much as $46 million from 1993 to 1995 and the stories can be very impressive, as told by other players in that time. One of them saying that at one point, he had all the $5,000 chips at the Horseshoe casino and almost broke the bank. With five WSOP cashes on his resume, he didn't just blindly gamble and actually knew how to win.

Easy come, easy go, and it didn't take long for his fortunes to be gambled away, but this never stopped him from doing what he loved.
Get ready for the movie!
Such an amazing story is hard to come by and it seems that First Born Films will turn it into a movie called "The Run". Daniela Cretu will produce it and there are certainly plenty of action-packed stories to consider. Karas didn't shy away from a gambling game and played for the highest stakes available. It doesn't matter if we are talking about pool, craps, poker or any other casino game; as long as it had high stakes, he was most likely playing it and winning big.
Frank Baldwin is in charge of making the script that will follow the Greek from his penniless days to having millions of dollars in his name and experiencing big swings every week.