Tips to not follow when placing a sports bet
Sports betting requires a lot of information, experience and knowledge, but it is never an exact science. If the various tips on the internet would help perfect a betting strategy, there will be a lot of gamblers owning private planes and counting the zeros on their bank accounts. However, while it may not be exact, it is indeed a science, and like the WSOP Player of the Year system, it comes with certain flaws.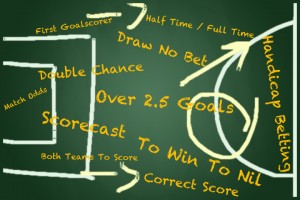 The main goal of sports bettors is to get an advantage over the bookmakers and thus win their bets and collect their money. There are many ways in which one can improve his sports betting strategy and experienced punters have filled the internet with their tips and strategies. Some of them can be very helpful and certainly deserve some attention but there are also some very popular tips that will more often than not turn out to be very bad. If you are new to online gambling, be sure to check out the welcome offers available on the internet and get free bets, bonuses, promotions and more. Claim 20 free spins HERE.
Star systems are advanced and profitable
If you have been looking for sports betting tips on the internet, there is a very good chance that you came across some sites in which the players presented their bets with star systems. These are to show how confident they are in their bets and can also be used as a way to determine how much money one should put on the bet. A 5-star bet means that the experienced punter is very confident in his choice and that this should mean a bigger bet on your part in order to maximize the winnings; right? Wrong.
The system is flawed because if you lose a big bet on a 5-star bet, you will have to win several lower star bets just to break even. The best tip for determining the size of the bet is to use the available bankroll as reference. No more than 5% of your available betting money should be placed on one bet. This will prevent you from blowing your bankroll immediately and will offer some stability in your strategy.
[geocode id=1]
Double your bet to cover the losses
One of the betting tips that have been getting a lot of attention recently encourages players to chase their losses. The idea is that if you lose a bet, you can cover it and get the winnings by doubling up on the next bet and if that one fails as well, simply double the bet once more. This can sometimes pay off, but it is usually a very fast way to burn through your bankroll and it is highly recommended to avoid using this style.
A similar situation can be found on some casino games and the results are normally the same. To try out for yourself, just access a reliable gambling site and play a few table games for virtual money using this strategy to see how it turns out. You can also make a deposit and play for real money while also getting a nice welcome bonus to boost your bankroll – Try Miami Club Casino and get $800 HERE.
Follow the crowd
When placing a bet on an online sportsbook, you will be able to see percentages on both sides of the line that show the bets from other users. The idea is that the majority knows best and that you should just follow it for a successful bet. However, a lot of bettors don't really know what they are doing and for every 1 punter that did his research, there are 10 that are just placing a bet on a hunch. This can mean that the percentages aren't really a good indication and you should first do your homework and then compare your results to the trends.