Two players remain at the final table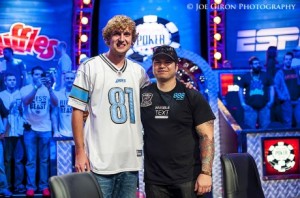 The November Nine took to the table on Monday as the 2013 World Series of Poker Main Event resumed after three months of preparations. The first leg would play until only two players remain and the action would then be paused until Tuesday. As the table heated up, it was Jay Farber and Ryan Riess who were left seating, while the other seven players were sent to the rail.
Farber will enter the final day of play with a chip lead of almost 20 million with his 105 million stack to Riess' 85.675 million. The blinds will be at 500,000/1,000,000/150,000 and the pretty close stacks means that either of them could get their name in the poker history books; not to mention the significant payday.
2013 WSOP Main Event Day 8
When the Main Event final table started, Mark Newhouse was one of the short stacks and it didn't take long for him to be the first one eliminated from the table. He got off to a good start as he doubled up on the fifth hand through Marc-Etienne McLaughlin by making trip Queens on the flop against pocket Kings, but didn't get so lucky 30 hands later. His pocket Nines were busted by Riess, who got a King on the turn to make it just eight players at the table.
Two hands later and David Benefield was sent to the rail in eighth place. He went all-in with Ks-2s against Ac-Kd held by Farber. The board gave Farber a straight and it was all over for the short stacked David Benefield.
Michiel Brummelhuis doubled up with pocket Nines but got eliminated two hands later when he got another pair of Nines in has hand, but ran into Riess and his pocket Aces.
[geocode id=1]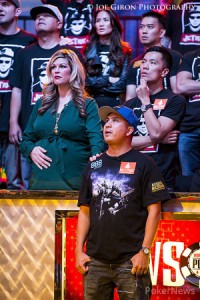 With just six players left at the final table, action slowed down a bit and it took a pretty long time before McLaughlin was eliminated. Hand #157 was a massive one as Farber was on the button and McLaughlin raised to 1.6 million from the hijack. Farber then made it 3.8 million and McLaughlin didn't waste any time before coming with another raise to 8.7 million total. After taking some time to think about, Farber got another raise to 19.3 million and McLaughlin moved all in for his remaining 38.6 million stack. Farber snap-called and showed pocket Aces to have McLaughlin's pocket Kings dominated. The board ran 8s-7s-2h-Jd-Jc and Farber got the huge pot while McLaughlin was out in sixth.
After four more hands, start of the day chip leader JC Tran was eliminated in fifth place. On his final hand, he shoved with Ah-7s against Farber's Ks-Qh and a King came on the flop.
Sylvain Loosli was the next one to go on Hand #170. He moved all-in while holding Qh-7c and lost to Riess with Ac-Th. The next hand saw another elimination as Amir Lehavot used his big stack at the start of the day to make it to third place. His pocket Sevens were dominated by the pocket Tens of Riess and he was sent to the rail with a $3.7 million payday.
The action on Tuesday will start at 6PM local time as Jay Farber and Ryan Riess will battle it out heads up for the title of World Champion of Poker, the $8.3 million first place prize and the WSOP diamond bracelet.
Interviews with the two remaining players:
http://www.youtube.com/watch?v=YOEhpVWw9W0