Social gaming no longer a Facebook term as next-gen consoles take over
When talking about social gaming, most players probably think of Zynga. There is a very good reason for this considering that Zynga has made some of the most popular social games, with millions of players accessing them on Facebook. Despite its recent struggles, Zynga remains the most known social gaming developer and it will take some time until other games see the same success on the big networks.
And when we say big networks, we of course mean Facebook. The only reason that the term social gaming even exists and is so bit is due to the over one billion users on Facebook, a company worth and estimated £106.5 billion. Everything from sports betting companies to your local pizza store can probably be found on Facebook. It is also the place where Zynga managed to become the monster it is right now, and did so in a very short period of time.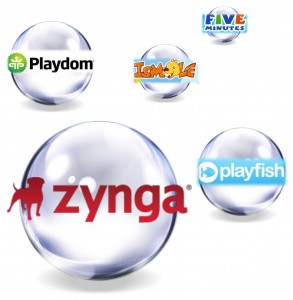 However, although Facebook is by far the biggest social network, according to a recent study released by Piper Jaffrey, the number of teenagers and young users using Facebook is dropping. Since the social games mostly target the younger demographic, social gaming on Facebook is also seeing a decrease in player traffic.
The main reason for the fall is that teenagers can be quite difficult to keep entertained and with the technological era constantly brining new gadgets in their hands, Facebook has remained a bit in the dust. Instead, game consoles and other devices are making the teenager consumer segment be a highly competitive one, estimated at $819 billion.
Facebook is no longer in the starting phase of its life and at the age of almost 10 years, users are starting to lose interest. The more mature social network does provide advantages for some categories of users but for the teenagers always looking to get their hands on the latest trends, Facebook has lost its appeal. Now that basically everyone has a Facebook account, including parents, grandparents and even their pets, it is no longer as exciting for younger users as it was just a few years ago. The growth of Facebook is what is now brining it down.
Is Zynga doing any better?
Before 2010, Zynga became a huge company in the social gaming industry. With games like Farmville and Mafia Wars taking over Facebook, the company turned a $90 million profit in 2010 and established itself as the leading developer.
The Texas Hold'em Poker game attracted more players than the leading real money poker room, PokerStars, and the future was looking very good for Zynga as plans to enter the world of real money gambling started coming together. Competing with the great bonuses and promotions offered by the leading gaming operators in the industry could have been too difficult for the struggling social gaming developer.
However, Zynga's numbers dropped significantly after 2010, mostly due to a Facebook change that would prevent content spam amongst users. This dropped Farmville players by 26% almost instantly and the company has been struggling ever since.
[geocode id=1]
How about taking social games on the go?
Mobile does show that the future of some social games is no longer based on players sitting at home and accessing their favorite games from computers. The success of new games like Candy Crush Saga and Temple Run more than paint a solid picture but there are some clear limitations to playing on mobile devices.
Games that have a lot of details and require players to remain focused in order to win generally don't have a big appeal amongst mobile players and are better suited for the bigger screens. This rules out poker as being a top choice but does leave some exciting games of chance like slots, blackjack, roulette and more. Yet casino games are most exciting when played for real money and the growth of mobile casinos certainly shows that the combination works very well – Try Drake Casino Here.
The real future of social gaming
With neither of the options presented thus far showing a good future for social gaming, there is just one more option to looking into and it comes in the form of gaming consoles. PlayStation and Xbox have been constantly getting better and better and the games now available push the boundaries of popularity.
When Grand Theft Auto V launched a couple of weeks ago, it generated over $1 billion in sales in just the first three days of its release. With a cost $265 million and years of development going into making a game, the results are incredible and there is no way to compare the next-generation games for consoles to the ones found on Facebook. This will most likely prove to be the future of social gaming.
Sony stated that PlayStation 4 will become the "first social gaming network with meaning" which will allow users to interact. Children no longer meet outside to play with their friends; they just start up their console, put on their headset and play video games with other players from around the world, making friends in the process. At the end of the day, this is what social gaming is all about.