Or will New Jersey blast right past it?
The race between Nevada and New Jersey has been a subject of discussion since both of them were looking to launch regulated real money online gaming offers. While Nevada has won the race and launched its first online poker room back in April, New Jersey has not been slowing down as it is getting closer and closer having its own regulated online gambling market.
Several recent events show that online gambling, or at least online poker, in the United States can be a good idea across the country and not just in a handful of states. Florida recently held an amazingly popular live tournament series with the Main Event attracting 2,384 players for a total prize pool of $11,920,000. This showed the popularity of the game and also placed Florida on the map as a live poker destination.
Even US Senator John McCain showed his support for online poker earlier this week, although he did it by mistake. The senator was photographed playing online poker on his smartphone during the hearings regarding the war in Syria despite being against real money regulations. He was playing for virtual money and declared that he lost thousands in that session.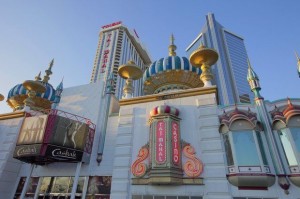 Atlantic City casinos lay off hundreds
During this time, Atlantic City casinos have been struggling with the lowering number of customers and looked to cut down on expenses by laying off hundreds of workers. The Trump Entertainment Resorts announced yesterday that 200 jobs will be cut amongst the Taj Mahal Casino and the Trump Plaza while forcing other employees to just work part-time. Revel also fired 115 of its seasonal workers, making it the second mass layoff for the casino this year.
One of the reasons for this measure can be associated with the regional competition that the AC casinos have to face. Maryland casinos reported a total revenue of $71 million last month, which represents a 50.1% increase from the same period last year. Maryland Live! got the biggest piece of the pie and the good times will most likely continue for the casino which has recently opened a 52-table poker room.
With the out-of-town competition making it very difficult for AC casinos to grow, it would seem that all the eggs are in the online gambling basket. This would basically give the operators in New Jersey a chance to reset and start over with a new source of revenue and much less competition to worry about.
[geocode id=1]
New Jersey's online gambling potential
The one major thing that New Jersey can use to blast past Nevada once the light turns green is its size. The online offers are expected to launch in November and the sites will not just be limited to online poker, like in Nevada, but will also contain various other casino games that generate a lot more revenue for the operators. The numbers in population will also give it a big advantage since New Jersey has a population of around 9 million and an already mature gambling scene in Atlantic City. Citizens of the Garden State are already eager for the online gaming industry to start and the boom might just eclipse Nevada, despite its early lead.
Also contained in the online gambling potential found in New Jersey, huge offshore operators can find their way to the player pool. Even with the licenses only being granted to AC casino operators and their partners, the lack of a "bad actors" clause means that online poker industry leader PokerStars might just be able to launch in New Jersey while being banned several more years in Nevada. The poker giant has applied for a license in the state but has yet to get the needed approval from the regulators.
Nevada will continue to run in the race even if all goes well in New Jersey since intrastate compacts can give both states the option to share player pools and online offers.