The proposed bill allows PokerStars to apply
Online gambling in the United States continues to be the subject of many debates across the world. With the race for the first all-American online gambling offer now running between Delaware, Nevada and New Jersey things are certainly getting interesting. However, news of US online gambling don't just come from these three states, that have legalized some forms of online gaming and issued their own set of regulations, but also from other states that want to join the party. Most notably is Illinois, which is looking to legalize online gambling by the end of the year.
While the games that would be allowed within state limits are not named within the bill, there is a statement saying that the games allowed will be based on "skill or chance"; which just about covers all games found in a casino. There are however restrictions on sports betting but these too can be lifted in case of a federal law. Online gambling operators that will get a license will be able to present their offer to customers within the state.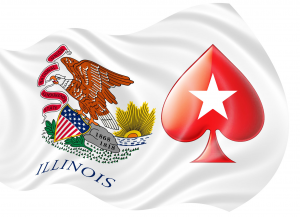 It is important to point out that despite the fact that there is no US-based online casino yet, American gamblers still have access to some of the top names in the industry with some of them offering big bonuses. For example, the Miami Club latest promotion makes sure that new users get up to $800 for free to gamble on slots.
Bad actors in Illinois
The first draft of the online gambling bill in Illinois had what is known as a "bad actors" clause. This is also available in Nevada and it basically bans all operators that have been charged for operating within the United States in the past. Those that remember Black Friday certainly know that PokerStars was right in the middle of it. However, the new proposed bill no longer has this clause so the online poker giant – as well as its sister company, Full Tilt Poker – will be allowed to apply for an online gambling license in Illinois. While New Jersey doesn't have this clause either, the regulations state that operators need to own a land based casino in Atlantic City; something which PokerStars is already in the process of getting.
Of course, everything remains uncertain until the bill actually passes and gets turned into law but PokerStars is certainly dedicated to making this happen. The company is working with All-Circo Inc. president, John Jelly Jr., to get a better position in Illinois.
[geocode id=1]
Online gambling in US
As more and more states jump on the online gambling train, it is just a matter of time until the federal government is forced to intervene. While this can end well by presenting a set of regulations that all states need to follow, it can also end badly with higher restrictions.
However, in the near future it would seem that intrastate online gambling is the solution that would satisfy all parties involved. But again, online gambling is already a pretty big thing in the United States with companies from across the pond finding ways around the restrictions to make sure that players can get access to their favorite casino games.
This Lotus Asia casino review presents a great option for players from around the world, including the US, and it is very easy to fall in love with the soothing style that made it so popular. On top of the nice design, there are also very nice promotions and a $1,000 welcome bonus to help get things started. The over 120 games can be played from the browser, by downloading and installing the software or from a mobile device with the help of a brand new app.