Microgaming announces May releases, NetEnt goes to space and €6.7m jackpot awarded
When it comes to online gambling, it is very hard to overlook the popularity that slots have. There are countless titles that allow players to spin the symbols which have the potential to award large prizes. Given the many styles that can be used to create a popular slots game, large software developers are always working hard to provide new and improved options. Microgaming and Net Entertainment are two of the biggest names in the online gambling industry and you can easily check out the best online pokies they offer, with some of them having progressive jackpots of millions of dollars.
Microgaming online casino games
Microgaming has recently announced that a big online casino, Golden Riviera, will be the host for six new games which will be launched on May 8. These include two slots games that will be available for the downloadable version of the casino and another four that can only be accessed in the instant Flash version.
One of the most anticipated titles is Bust the Bank. Players will be able to play it in both versions and enjoy the American style of the game that follows several thieves on their adventures. As most of the popular Microgaming titles, there will be some special features with this slot game that include Wild symbols, Scatters, Free Spins and various bonus rounds.
[geocode id=1]
For something a bit cooler, Microgaming will introduce Arctic Agents; a Flash only pokies game with 5 reels. It includes pictures and animations of Arctic animals with the main character being Agent Penguin; the James Bond of the Arctic animal kingdom. The 9 paylines will allow players to play their preferred style and there are plenty of bonuses scattered along the way to make it easier to win big while having fun.
Something that combines wild animals and criminals, is Mugshot Madness. The game is just for the Flash version and its cute theme makes it very enjoyable. As the animal criminals are on the run, the hyena detective is trying to track them down and take them to justice. The free spins feature gives players a better chance at catching the felons in order to claim the rewards.
NetEnt releases Space Wars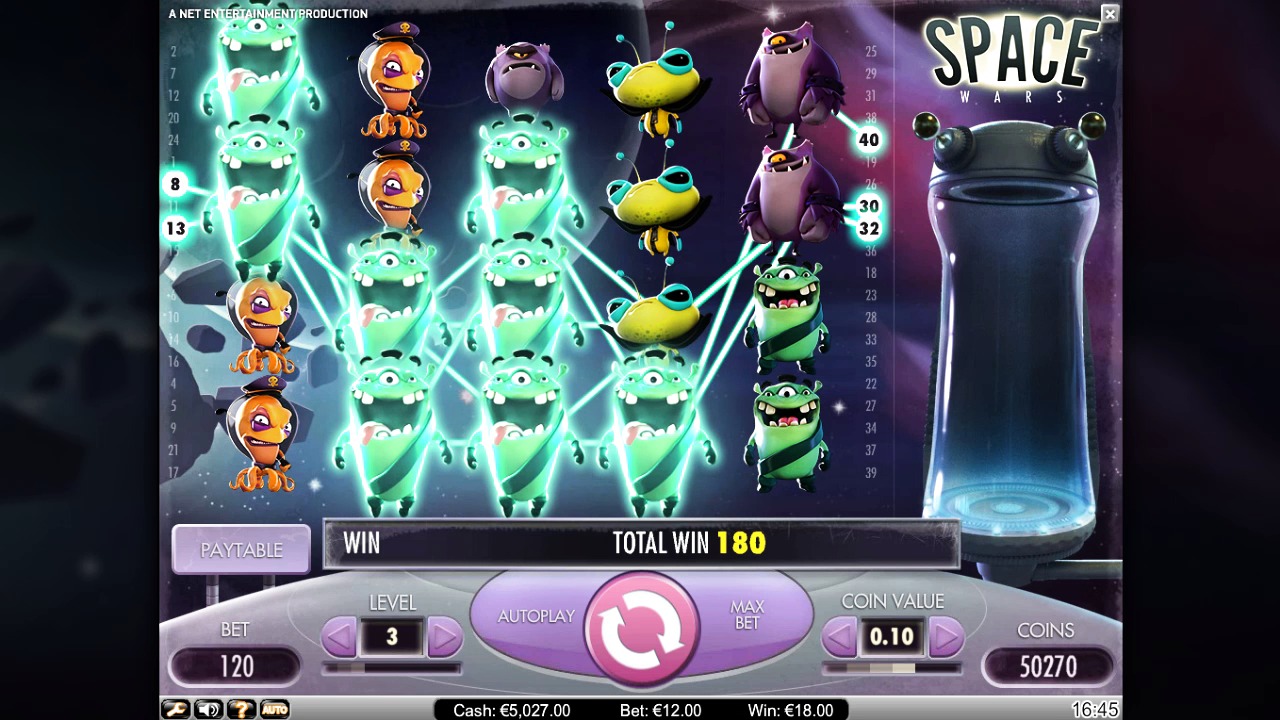 New games from Net Entertainment are always highly anticipated since they always bring exciting features and great designs. Space Wars is no exception as it takes various space creatures and puts them in a 5-reel video slot that has 40 paylines. The five alien species are fighting to get a very powerful crystal and players can have lots of fun playing this game.
The design certainly makes it stand out very quickly and, as described by Chief Product Office of NetEnt, Space Wars is out of this world. Special features such as free spins and wild cards are of course available and will make it more rewarding as you play along.
Since we are talking about Net Entertainment and online slots, we should also mention the big jackpot which was won earlier this week. One lucky player from Sweden cashed in €6.7 million after hitting the winning combination on the popular Hall of Gods game.
The huge amount of money only came from a €2 spin and this makes it the fourth large jackpot awarded by Hall of Gods in the last couple of years. Net Entertainment online slots are known for having a high liquidity and big numbers are never far away. Every punter dreams of winning millions from a small wager and this is what progressive slots have to offer and it is one of the many reasons why they are so popular on the internet.