The popular bingo gaming site has closed its virtual doors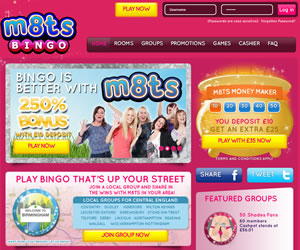 M8Ts Bingo first became available in May 2012 and the colorful style combined with the nice bonuses made it a very quick success in the world of online bingo. With the help of a Parlay bingo software version, the site offered an exciting new option amongst social users and tried to maintain the values of traditional bingo. Players would normally come out to bingo halls in order to get together with friends for a common interest and have fun.
Less than a year later, the site is no longer available and now only has an announcement from the company letting players know that M8Ts Bingo is closed as of February 7th. There is no reason mentioned as to why this happened or if there will be a new version provided by the operator, Quizzino Limited, later this year. Users that had accounts on the site should not worry since all their information was transferred to Bingo Palace. There is still the option to play games on the site but the feature to share it with your friends is no longer available and this is what made M8Ts so popular in the first place. It is very likely that the site will shut down completely soon.
This is not the first social and bingo site that recently shut down with Wonder Bingo making a similar announcement just a few months ago. The players from Wonder were also redirected to Bingo Palace. It is still unclear why these sites don't seem to work but it may be due to the fact that bingo players don't seem to enjoy the social elements very much; on the other hand, it may also be due to the platform since not many sites are available on Parlay.
Needless to say that all new sites are having some difficulties getting a slice of the market from the large names in the business, such as Foxy and Tombola. Lucky Pants and Kitty have surely put in a lot of effort to get noticed and have invested big amounts into advertising.
[geocode id=1]
NeoGames offers new bingo platform
As we see some sites struggle, other options are made available to online bingo players. NeoGames has recently launched a new bingo platform that is made especially for gambling operators that offer their products in regulated markets.
The company is based in Malta and is known for developing scratch cards as well as lottery games. With the new platform, players will be able to enjoy a new range of bingo games on the internet with some special features thrown into the mix for a more comfortable gaming experience. The CEO for NeoGames, Ilan Rosen, has mentioned that the new product has already shown great interest from customers and that they are very excited with it.
More bingo news is just one click away and fans of the popular game can learn more about the industry as well as the sites that make it so enjoyable. Reviews of popular online bingo sites can make it a lot easier to choose the perfect option and small guides and tips can also be very useful for new players that want to get started but are not quite sure how. Online bingo is one of the easiest gambling games there are and recent reports show that amongst the 2.4 million players that enjoy bingo in the UK, around 700,000 of them are under 25 years of age.
The increase in smartphone usage can be attributed to the younger bingo players since it is now very simple to enjoy a few games on a mobile device. Since smartphones are more popular amongst the younger generation, there should be no surprise that most of the mobile bingo players are between the ages of 18 and 25.