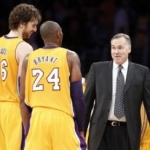 The Los Angeles Lakers started out the 2012-2013 season with so much hype after acquiring Dwight Howard and Steve Nash, that we were basically oozing at the thought of seeing this team in action.  After a few injuries and some up and down play, the Lakers got off to a brutal start though.  Overall, the Lakers defense was a huge part of their slow start, but then they decided to make a move and change the head coach by firing Mike Brown.  Hiring Mike D'Antoni wasn't going to handle the defensive woes obviously, but they were hoping that it would be a perfect fit for Steve Nash.  The D'Antoni era started out brutal as well, with Nash being out with an injury, but we were all assuming that once he got back, the Lakers would live up that that preseason hype to win the NBA Finals.
Nash came back, and things simply didn't go to plan.  A starting lineup that now features Kobe Bryant, Steve Nash, Dwight Howard, Pau Gasol, and Metta World Peace.  They also have a strong bench that features Jodie Meeks, Antawn Jamison, a newly found talent in Earl Clark, and Steve Blake, who is currently injured.  When Nash got back in the lineup it looked like things were going to start turning and they finally got on some type of a winning streak.  It just didn't stand though, and now the Lakers are falling and fading quickly.  The question of whether or not they can contend for an NBA Championship is no longer up in the air, as the real question now is whether or not the Lakers can even MAKE the playoffs at all.  And sadly for Lakers fans, that is a serious question, as they definitely have some ground to make up with a 3.5 game difference between their current spot and the 8th seed.
[geocode id=1]
As of the time that this article is being written, the Lakers have a record of 17-22, and are coming off of a loss to the Miami Heat, Lebron James, Dwayne Wade, and Chris Bosh.  They've also gone 3-7 in their last ten games, which is not something that they are going to be bragging about any time soon.  There needs to be an answer, and we can't use the answer of "injuries" so much.  Pau Gasol is now back from his concussion and is getting run again, and Dwight Howard looks like he's getting back to full strength; meaning that he should be a complete force down low against the rest of the NBA.  Steve Nash has been back from his injuries, and the only other player who we are really awaiting a return of is Steve Blake, but in all honesty he's going to get minutes, but won't have the type of affect that some people may expect.
In the latest casino news and sports betting odds and news, we've seen the Los Angeles Lakers fall all the way to +1500 to win the 2012-2013 NBA Finals, which is a huge fall from grace considering where they started the year at.  Los Angeles has probably the most talent out of any team in the NBA, but it is possible that the team just hasn't adjusted to Mike D'Antoni's offense, or that their defense isn't nearly strong enough to overcome the issues that they are having.  Time is going to tell whether or not the defense can be fixed, but seeing teams put up 120+ points on them is painful for fans and the front office I'd bet, and that's something that is going to need to change.  If it doesn't change soon then the LA Lakers could be on the outside looking in for this year's playoffs.