Eurovegas is a new opportunity
"I am Messi in the roulette"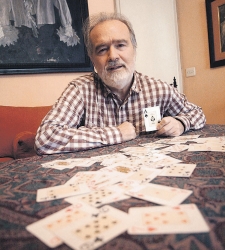 Gonzalo Garcia Pelayo is a man who has been able to win over three million by playing roulette in different casinos of the world and not anyone is really certain of how he has accomplished this.  Some say it is mere luck, while others are truly convinced that he is a mathematician and that he has been able to decipher a way to beat this game.   In several interviews that he has been in, they have asked him if he is truly winning these roulette games legally and if he has any kind of tricks to beat this game.  Every time he has answered that he is completely legal and that he has never used any tricks to defeat the roulette games in some of the casinos he has been at.
He does explain a technique that he has used over and over again, which he claims is simple mathematics and that anyone can do it.  He says that it is necessary to bet  a little bit more than the probability that you have you have to win and that this will allow you to defeat the house every time.  While many people do not seem to understand this roulette strategy, it is actually quite simple and other roulette players around the world are already claiming that they have actually earned some money this way.
When asked if he was some kind of expert in mathematics, Garcia told them that he is a movie and music producer, but that he has studied mathematics in his free time and that he has also read many books about probabilities and such.  This has definitely helped him to come up with a personal strategy, which has proven to be very effective and while many are certain that he has not revealed all of his secrets, many are already making some money in roulette games with his tips.
Garcia Pelayo also says that the game between the casino and the players is like the ancient cowboys and Indians story, as where both groups are out there trying to get the other.  This is certainly a unique way to look at playing roulette, but it is certainly one of the ideas that have helped this man to bankrupt many casinos.  Some of the earnings he has made over the years have been in some of the most famous casinos of the world and while he might not have put them out of business, he certainly did win a lot more than the common roulette player does.
[geocode id=1]
Now Eurovegas is soon going to be available and this means that European citizens will be able to gamble in some legal casinos and play roulette as long as they want to.  This is a project that has been expected to happen by many people and now that it is finally here, many are feeling anxious and cannot wait.  People like Garcia Pelayo, who enjoy playing roulette, will have many opportunities to enjoy this fabulous game and do it in some of the most luxurious roulette tables in the world.
The new Eurovegas opportunity is certainly going to be a world news event and many cannot wait to visit this place when it opens.  Gambling is becoming a part of many people's lives and this has increased the amount of promotions and opportunities in the market.  If you like playing roulette or any other casino games, you can now enjoy some in the major casino websites or simply wait for a casino to open near, which is probably not too far away.