Free play online poker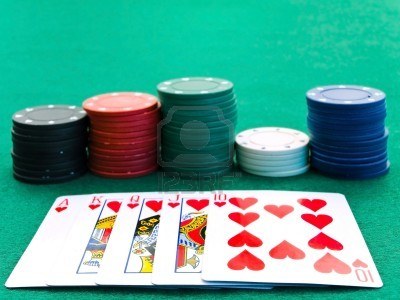 For many people, free play online poker has been the first contact they have ever had with the game. Not only has this been a common practice for the past decade, but it's actually the sensible thing to do: if you want to learn how to play a game, you won't wager your own money in the process, will you? Free play online poker games are great because they give you that very opportunity.
But for most people, playing online poker for free is just a step in their game, one that will be overcome sooner or later. The beauty of online poker lies in the thrill, and you can't achieve the same thrill by playing for free rather than playing online poker for real money.
Free online poker games are divided into two main game types, as is the case with real money games: tournaments and "cash" games. For both of these types of games what you do is use the free credits that are issued to you by the online poker site, the main difference between them and real money being that you can ask for more credits once you lose the ones you get at first. For tournaments you use them as buy-ins and for cash games you pay with the credits instead of cash.
Real money online poker
Real money online poker games are where it's at, and depending on the limits you're playing at online poker can seem totally different. For low stakes, it's all about sticking to a simple set of rules: which hands you should play and when. The higher you go in the limits, the tougher these rules get, and the more you have to work in order to win. Once you get to a more advanced level you need to predict what all of your opponents will do as their next move and take into account your position, hand, their hand, their position, previous hands, and so on.
The biggest benefit from playing online poker for real money is that you put money at stake in order to win money, and there's a lot of money to be made in this game! Our advice is, if you start playing online poker go for real money games, as you have so much more to win here!
Making the transition
Going from free play online poker to real money poker has to be done with great care. You have to be aware of the fact that the way the game is being played in free play rooms isn't correct, and if you play as loose and careless as people usually do in the free play rooms you're going to run out of money soon enough.
All the top poker networks and poker sites have low stake games available, and it's best that you start playing at the lowest possible stakes for the first time. As you see yourself clearly winning and overcoming a certain limit, it will be safe to move on. And if at some point you're going to get stuck and see yourself starting to lose some money, it's not a big deal if you scale back for a while until you stop tilting, only to proceed to higher limits once you've overcome the bad streak.
In the end, should you play for money?
[geocode id=1]
Definitely! Apart from the beginners that have yet to learn the rules of the game, you should definitely consider playing online poker for real money, even if it's just the low limits at first. So take a chance and go for it!