The past years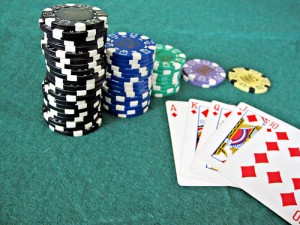 For the past couple of years, online poker players have experienced setback after setback when trying to take part in their favorite online card game. Problems in the online poker world kept piling up to the point that players would often have to go to great lengths just to be able to sign in and play some online poker.
Troubles in the United States were widely covered by online poker blogs and news pieces, and problems with high profile online poker sites, like Full Tilt Poker and Poker Stars, not to mention the Ultimate Bet network, were there to add insult to injury. So naturally, people started to lose hope in this game, making many drift away from online poker.
Times are changing
But the future doesn't look as bleak as it would have appeared just a few months ago. Full Tilt Poker is back up and running and so is Poker Stars. What's more, these sites haven't suffered too much loss in the number of active players, as they're still just as interested as always. In fact, the whole "online poker is dying" argument just isn't true. Even when the times seemed bleak and there was no hope in sight, online poker players stuck to their favorite game and simply found other means to get what they wanted.
And now we're about to see the whole industry flourish! Online poker is bound to make a comeback this year, and even though 2013 is just beginning it brings with it awesome signs. Here's what I think the biggest changes in online poker will be in 2013:
Bigger promotions and prizes
It's simple math, really. With online poker doing so well lately, it's only natural that more and more people will start to join in on the fun. And more players equals more money into the online poker sites' pockets. With more money at their disposal, they're bound to increase the rewards given back to players. It's the exact opposite to a vicious circle, one that works to our advantage! If all goes well, be ready for more and better promotions and bonuses from online poker sites!
More poker sites
We've already started to see some very impressive online poker sites appear on the market as of late. PokerTime gets our award for the best fresh face in the online poker industry (and you can Download PokerTime to see for yourself), and there are bound to be many more such poker sites to appear in the following months.
And seeing that there's a lot of demand for such sites, it's not even remotely surprising!
Bigger and better events!
If you take a look at the latest poker events, whether they're the latest online poker tournaments or live poker events, you'll see that their attendance has steadily increased over the past few years. What's more, they have given out bigger and better prizes as time went by! If in previous years the World Series of Poker was the only event to even think of breaking a million bucks as the big prize this is now a common occurrence nowadays!
Poker in 2013 – will you be a part?
[geocode id=1]
So it's clear now that online poker is here to stay, and it's only going to get bigger and bigger in the following months of 2013. The only question that remains now is: will you be a part of it? Tens of millions of people are already at it, playing the biggest card game in the world, will you sit at an online poker table beside them?