Warning
: Illegal string offset 'country_id' in
/home/content/40/12119040/html/wp-content/plugins/wp-geoip-text/functions.php
on line
54
Warning
: Illegal string offset 'text_text' in
/home/content/40/12119040/html/wp-content/plugins/wp-geoip-text/functions.php
on line
56
Molly Bloom is the latest to come forward as being guilty
Molly Bloom, also known as the "Poker Princess", was the go-to person for sports stars, Hollywood celebrities and Wall Street millionaires looking to play high stakes poker. Bloom organized various underground poker games which would go for nosebleed stakes between some well-known celebrities. She was arrested for illegal gambling, along with 33 other individuals indicted by the federal authorities a few months ago, and pled guilty on Thursday in Manhattan.
The illegal poker games were part of the Taiwanchik-Trincher Organization that also offered illegal sports betting and was ran by Anatoly Golubchik and Vadim Trincher. The sentence for the two is set for March 2014 and Trincher pled guilty last month and agreed to forfeit $20 million worth of property while facing 20 years in prison.
High stakes poker at The Plaza
Bloom stated that she used to organize high stakes poker games in New York, from a suite at The Plaza, but that she was assaulted by two thugs from Europe in 2010 and then decided to move back to LA. Here, she ran an invite-only poker club that attracted notables such as Ben Affleck and Leonardo DiCaprio. The Poker Princess has made a deal with HerperCollins in which she will say everything about her illegal poker business for a book. She also agreed to give up $125,000 and will face a sentence of up to six months. The trial will conclude on April 30.
Out of the 34 individuals arrested as part of the same organization of illegal gambling, Bloom is now the 24th defendant to plead guilty. This includes Michael Sall, who was in charge of investing the profits from the illegal gambling business into legitimate activities. He is looking to spend five years in prison after forfeiting $1.3 million, with his sentence being scheduled for April 9.
$68 million forfeited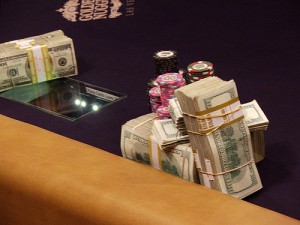 Around $68 million has been forfeited by the defendants pleading guilty thus far, which shows the extent of the illegal operation. Hollywood producer Bryan Zuriff remains the only one to have been sentenced so far as he is now on probation for two years and had to pay a $20,000 fine aside from the half a million dollars he agreed to give up in July.
The other defendants are expected to follow in the same footsteps and plead guilty. The case will continue for the next several months.