Warning
: Illegal string offset 'country_id' in
/home/content/40/12119040/html/wp-content/plugins/wp-geoip-text/functions.php
on line
54
Warning
: Illegal string offset 'text_text' in
/home/content/40/12119040/html/wp-content/plugins/wp-geoip-text/functions.php
on line
56
Party/Borgata averages 170 cash game poker players
New Jersey has made a lot of headlines after launching regulated online gambling in the state. With the soft launch starting on November 21 and with the virtual doors officially opening on November 26, New Jersey has been enjoying a great response, which many were not expecting. The first week of regulated online gaming in the Garden State has already gone past and New Jersey has overtaken Nevada as far as online poker players go.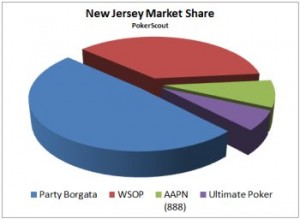 According to PokerScout, cash game traffic has been very good for the starting week of online poker in New Jersey as the seven-day average shows that 348 users played on the new poker sites every day while Nevada only had 195. It is not very surprising that New Jersey has overtaken Nevada given the huge difference in population of the two states, but Nevada has had an early start of half a year, despite the fact that only two online poker rooms are available as of now.
Marketing and variety in New Jersey
New Jersey wasted no time in catching the attention of the 9 million residents of the state and also offered a lot more variety right from the start. Some companies have already started their marketing campaigns meant to attract more players and the residents of New Jersey should expect more ads to come their way by radio, TV, social media and even digital display ads at ferry terminals.
There are four poker networks to choose from and the Party/Borgata Network is leading with almost half of the total cash game traffic at an average of 170 cash game players every day. The network consists of PartyPoker and Borgata Poker.
The site launched as a result of the partnership between Caesars Interactive Entertainment and 888 Holdings – WSOP.com – is also doing well in New Jersey, with 130 cash game players on average over the last week. WSOP.com is also available in Nevada and while the player pools are segregated for now, this may change in the future and can give Caesars a nice combination of players to work with.
The first online poker site to launch in Nevada, Ultimate Poker, is also available in New Jersey but it only has an average of 20 players, making it the less popular poker room in the state as of now. 888 Poker has been doing a bit better than Ultimate and attracted an average of 28 cash game players to the virtual tables that made the brand one of the leading poker operators in Europe.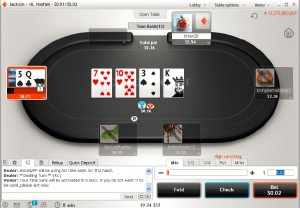 The industry is still new but the initial figures show that online gaming is steadily growing in New Jersey. Instead of a big boom at first followed by a decline, the traffic seems to be constantly growing, showing great promise for the future of the industry which Gov. Christie still expects to generate $1 billion by July, 2014.
As of Monday, the Party/Borgata Network saw a record of 501 cash game players seated at the tables, making it enough to rival other poker networks which are not limited to just one state.
More information on the launch of online gambling in New Jersey: