Warning
: Illegal string offset 'country_id' in
/home/content/40/12119040/html/wp-content/plugins/wp-geoip-text/functions.php
on line
54
Warning
: Illegal string offset 'text_text' in
/home/content/40/12119040/html/wp-content/plugins/wp-geoip-text/functions.php
on line
56
Illegal gambling is huge in Russia
It is safe to say that gamblers are willing to bet on just about everything as long as there are takers and this can sometimes lead to some interesting betting options, although they are not really mainstream. A bookmaker was recently closed in Moscow for illegal operations and the police found cages for rats, roosters and insects, which are believed to be used for gambling reasons.
Gambling ban in Russia
The regulations in Russia have not been very supportive of the gambling industry. In 2009, the government banned all forms of gambling apart from those located in four designated zones. While this can create gambling cities such as Las Vegas and offer a lot of options in a compact place, it didn't work out in Russia and three of the four zones don't even have gambling establishments and all of them are hard to access geographically for most citizens.
This has resulted in illegal gambling being spread throughout the major cities due to the huge demand and despite the fact that the police has been constantly working to shut down the venues, others continue to pop up. Since the new law was implemented, 59,000 gambling operators were shut down for being illegal and this leads us back to the bookmaking operation which was closed earlier this week in Moscow.
Large Russian bookmaker gets busted
There are rumors that the illegal operation is the Korona casino which had to shut down in 2009. The media also offered information on a few of the betting options available here. One of them was cockfighting but with a less violent twist. Instead of having the birds fight until one of them was bleeding on the floor, the illegal bookmaker operator would tie eight small balloons on each of them and the winning rooster would be the one that pops all the balloons attached on the opponent. Once this happened, the two fighters were separated and the bets were paid off.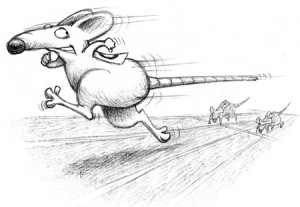 If players didn't enjoy betting on two roosters popping balloons, they also had the option to bet on a live rat race, which took place every five minutes during rush hours. Ten rats would race through an obstacle course to a bunch of food pellets at the end, while gamblers would place bets on which one they thought would get there first.
Insect fighting was another option for gamblers to wager some money at the illegal operation and such establishments are believed to be quite common in the capital and in other major cities in Russia.
The gambling ban proved to be a highly ineffective way of stopping players wagering money and it only seems to eliminate the option for the government to tax it and regulate it accordingly. The current laws in Russia do not allow poker but gamblers can bet on the outcome of a poker game. There are bookies which offer videos of poker hands without showing the players and bettors can just wager on the outcome of every hand. This takes the WSOP coverage provided by ESPN to a whole new level of possibilities.