Warning
: Illegal string offset 'country_id' in
/home/content/40/12119040/html/wp-content/plugins/wp-geoip-text/functions.php
on line
54
Warning
: Illegal string offset 'text_text' in
/home/content/40/12119040/html/wp-content/plugins/wp-geoip-text/functions.php
on line
56
Retired soccer star will promote the Las Vegas Sands in Asia
On Sunday, Manny Pacquiao and Brandon Rios met in the ring for one of the biggest boxing events of the year. The event took place at the Cotai Arena at The Venetian casino in Macau and amongst the many world-famous celebrities which were there to see Pacquiao win by unanimous vote there was David Beckham.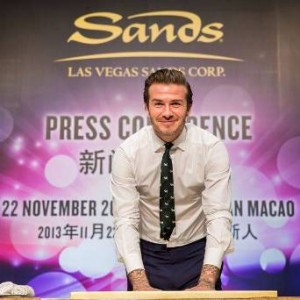 It turns out that his trip to the luxurious casino in China was not just to see the fight but also to discuss a deal with the Las Vegas Sands. The latter announced that the recently retired football star will help promote the brand in China. Due to the regulations in the city not allowing for operators to directly promote their casinos, Beckham will focus on the new retail and dining ventures made available, with the hope that some of the interested customers will also jump to the casino tables for a few games.
David Beckham certainly has a lot of fans around the world and although he is now retired from professional soccer (or football, depending on which side of the pond you are), he remains one of the icons of the sport and is involved in a variety of other businesses outside the game. Along with his wife, ex-Spice Girls singer Victoria Beckham, the English outfield player has helped produce and market a variety of luxury products. It is safe to say that Beckham has grown beyond the sport and managed to become a brand in his own right.
Las Vegas Sands China CEO Edward Tracy didn't give away a lot of information regarding the venture with David Beckham but the results of the marketing campaign should not take long to appear. The idea is quite creative and offers a way around the casino advertising ban in China while promoting other services which are very closely related to the casino. Given the fact that Beckham is one of the most marketable athletes right now should offer Sands quite a nice boost in traffic.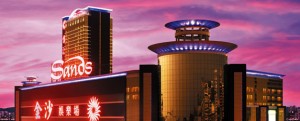 It is a great deal and it remains to be seen just how it will work. More information will become available over time as the final details are sorted out and the marketing team gets to work on turning one of the biggest soccer stars in Europe and in the US into a symbol of the entertainment and retail options offered by Sands in Macau.
Beckham stated that he misses football but that he is happy to have something else set up to jump to away from the field. He also expressed his pleasure and desire to become a businessman now. There is no better place to get into the casino business than in the gambling capital of the world –Macau. The 38-year-old celebrity is estimated to be worth $300 million.