Warning
: Illegal string offset 'country_id' in
/home/content/40/12119040/html/wp-content/plugins/wp-geoip-text/functions.php
on line
54
Warning
: Illegal string offset 'text_text' in
/home/content/40/12119040/html/wp-content/plugins/wp-geoip-text/functions.php
on line
56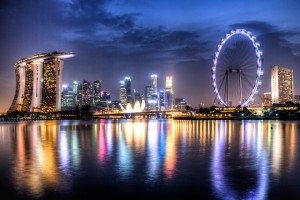 Singapore may finally be about to bring the axe down on online gambling in the country. Singapore has already implemented a series of rigorous and stern security measures to stop their own people from playing, including banning residents from appearing in either of the two land based casinos in the country. Now it appears as though online gambling is the next item on the agenda that they wish to tackle.
According to the Second Minister for Home Affairs, it is the goal of the current Singaporean government to amend their own laws, to prevent illegal crime organisations raising funds through online gambling, which could be used to further illegal activities. The move comes after a recent speech by the same official, stating that online casinos were more addictive than land based ones in the country. The latest statistics seem to back up the minister's point, revealing that almost a third of the country's residents have gambling online at least once, in the last 365 day period.
But how would Singapore go about banning online gaming within its borders? According to the government, they could invoke a law that blocks the IP addresses of gaming domains, as well as asking banks and online payment operators to deny all transactions related to gaming from reaching their destination. The government could also ban all forms of advertising for online gaming in Singapore, whilst at the same time issuing more power for the authorities to tackle those sites which provide gaming facilities to the people of Singapore.
Generally, whenever a country has attempted to ban online gambling thus far, a series of black market operations pop up. Many pro-gaming advocates are concerned that by closing down legal gaming sites, that the country will inadvertently open themselves up to illegal gambling with potentially dangerous consequences. Far less severe alternatives are also a possibility, as many casinos could still offer their services to players based in Singapore through other means, such as offshore sites, and as Belgium and the United States have found, there are always ways to get money into accounts, and to dodge IP blocking software.
The warnings from the pro-gaming advocates, comes as they look to other Asian countries. In those countries where gambling is not illegal, there have been far fewer illegal gambling rings surfacing. Surely then, it would be smarter to advocate online gambling through licenses, to keep a tighter grasp on it, in much a similar way as Hong Kong does?
Nothing is set in concrete yet, but as things stand, Singapore could soon be wielding the chop to online gambling in all forms.