Warning
: Illegal string offset 'country_id' in
/home/content/40/12119040/html/wp-content/plugins/wp-geoip-text/functions.php
on line
54
Warning
: Illegal string offset 'text_text' in
/home/content/40/12119040/html/wp-content/plugins/wp-geoip-text/functions.php
on line
56
The tennis star will take part in a live poker charity tournament
Rafael Nadal finished this year as the No. 1 tennis player in the world, despite losing the last tournament of the year to Novak Djokovic in the last match of the ATP World Tour Finals. To make his achievement even more incredible, the Spaniard has managed to come back from a career-threatening injury to have one of the best years of his career, claiming the top spot in the process.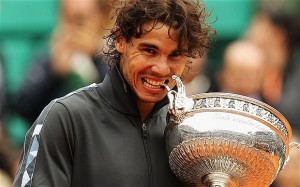 Nadal fans know that he isn't just a big threat on the tennis court but also on the virtual tables, being part of the PokerStars Team SportStars since June 2012. He has appeared in several ads for the online poker room and has been known to frequent the tables. Now, Rafael Nadal is scheduled to take part in his first big live poker tournament on December 12. The event is part of the European Poker Tour stop taking place in Prague and it will be a charity tournament.
This will not mean that the field will be easy for the professional tennis player as some of the biggest names in the poker circuit are expected to take a seat at the tables in order to help raise awareness for the charity and also win the big prizes. Other sporting legends will also take part in the tournament and it will be interesting to see if they can stand against the pro poker players.
A challenge at the poker table
Nadal said that he has been playing poker for 18 months and that this is a challenge he is looking forward to. With the tennis tournaments being done for the year and with plenty of time to go until the Australian Open takes place in mid-January, the tennis legend has some free time on his hands. He also mentioned that he loves the competition, no matter in what form in comes, and that this is what he likes about poker.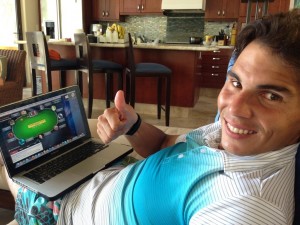 There are some similarities between poker and tennis as you need to out-think your opponents and it remains to be seen if Nadal can translate some of his tennis skills to the live poker tables in Prague on December 12. He has reportedly taken a big interest in this and hired a poker coach in order to sharpen his skills for the tournament.
A while after Nadal joined PokerStars in 2012, his fellow Red Spade pro Daniel Negreanu said that the Spaniard will probably take part in the World Series Of Poker in 2013. While this didn't happen, this first major live tournament for Nadal can spark an interest in poker away from the virtual tables and we might just see him taking part in major events around the world.
Rafael Nadal playing poker his own way: