Warning
: Illegal string offset 'country_id' in
/home/content/40/12119040/html/wp-content/plugins/wp-geoip-text/functions.php
on line
54
Warning
: Illegal string offset 'text_text' in
/home/content/40/12119040/html/wp-content/plugins/wp-geoip-text/functions.php
on line
56
Planning another huge party for December 13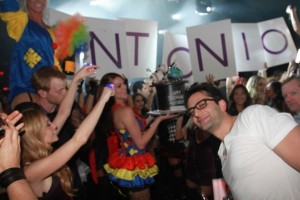 Antonio "The Magician" Esfandiari is already looking to make his 35th birthday a memorable one, with three more weeks until the big day. The Marquee Nightclub in Las Vegas will once again host the poker pro and his guests as they celebrate another big milestone in the life of The Magician.
Las year, the same venue was the choice of Esfandiari and the massive party included celebrities from the poker tables and away from them, with his friends Jeff Gross and Michael Phelps not missing out on the fun. A surprise cake with his two most famous passions – poker and magic – was brought out at midnight as DJ Eric DLux made sure that everybody was having a good time and enjoying the music.
The party last year was such a big success that the three-time WSOP bracelet winner decided to do it again, only this time he plans on making even bigger. Tritonal will be in charge of the sounds this year, according to the schedule presented at the venue.
The former professional magician is on top of the all-time tournament poker winnings list, mostly due to the $18 million score he got by winning the Big One for One Drop in 2012, after paying a buy-in of $1 million. Add two World Poker Tour trophies to go with the WSOP bling and tens of cashes in major events and you have a very impressive poker resume.
Magical night in Las Vegas
It is safe to say that money will not be an issue for the party and you can expect to see some of the best poker players in the world take a break from the tables to come out and say "Happy Birthday" to their friend.
Esfandiari has never been one to shy away from the cameras and he has appeared in various poker shows on TV, including the recent ESPN coverage of the 2013 WSOP Main Event where he talked about certain hands with Phil Laak.
Poker fans, magic enthusiasts or just regular people looking to have a good time can book a table at the venue for December 13 by emailing the Director of VIP Services at Marquee. It will certainly be a night to remember, as long as the alcohol levels allow the guests to keep track of everything happening around them.
Interview with Antonio Esfandiari: